This Hair Straight Styler is a hair styling tool that will both comb and straighten your hair, along with curling the ends.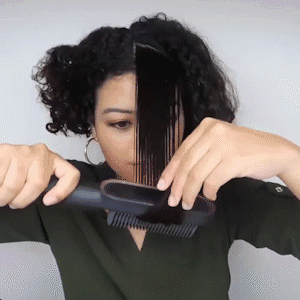 Why you will love it?
The hair straightener brush gives the quick professional result of silky straight hair in minutes that you dreamed of, allows you get ready quickly for going out in rush morning hours, instead of wrestling with the blow dryers day after day.
This hairbrush for straightening hair leaves your hair silky, straight, and smooth from the very first stroke. It heats up to 145℃ in 30 seconds, max 200℃, auto keep constant temperature at 145℃, your hair will be basically settled in 8-10 seconds. Suitable for every hair type.

♥Features:
【HEALTHY SILKY HAIR】 Straightening brush gives you a lively and bouncy effect, not completely press down your hair, rather than flat burnt look and leaves your hair easy to manage. Just brush your hair once and dull hair into gorgeous shiny and sleek looking.
【TIME SAVER & ANTI SCALD】60s PTC heating technology, with 23 pcs of special heating materials, heated up in a minute, save your time! The heating elements between the teeth that prevent your scalp from getting burnt, worry-free from burning scalp & hands.
【6 LEVELS & AUTO OFF】6 levels of temperature from 265℉ to 395℉, suit for all hair types: thin, fine, bleached, wavy or curled. With liquid crystal display, control and monitor temperatures easily, auto-off after 1 hour, even more, secure when you forgot to turn it off.
【Anion Hair Care】Straightener brush with nano anions released from heating plate form a protective layer of your hair, which helps protect your hair from dryness and frizziness, less hair loss, less hair breakage.
【SUITABLE FOR TRAVELING】With small size that saves space when you are on a trip, 360 anti winding cable gets you to hold the device at any angle for the best straightening results.
♥Specifications:
Certification: CE
Voltage: 210-240V
Max. temperature: 200 °C
Min. temperature: 130 °C
Power Cord Tail Assembly Mode: 360° Rotatable
Thermostat Adjustment Segments: 10
Cable Length: 1.8M
Power Source: Electric
Product size: 310 * 46 * 45 MM
Plug: EU/US